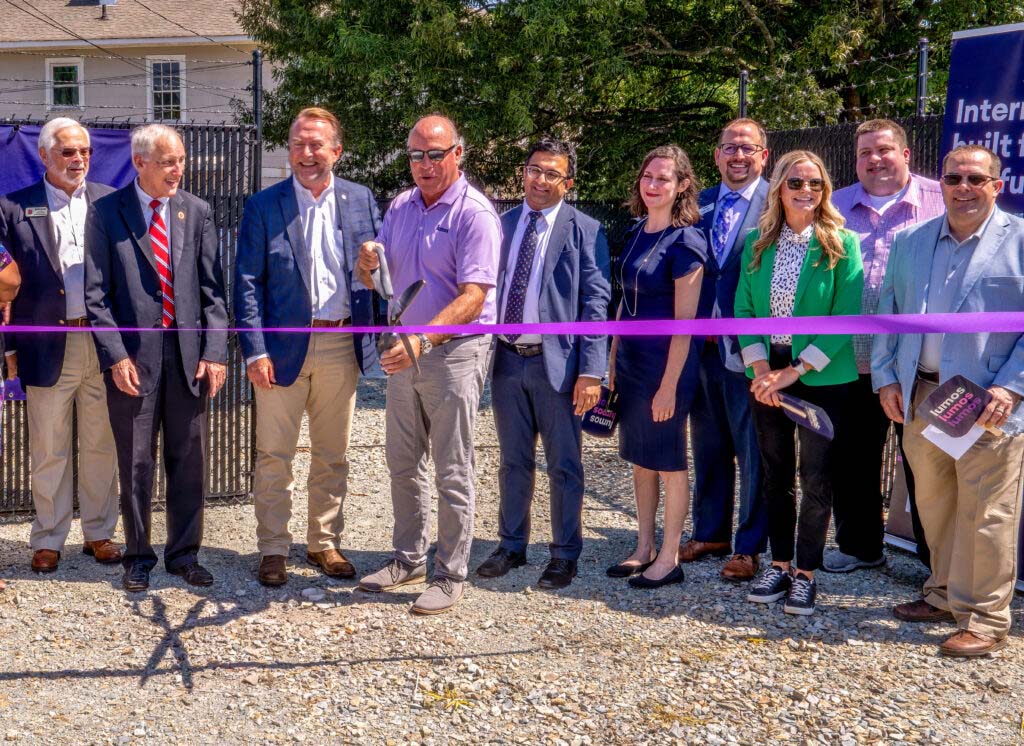 Lumos is proud to be the first fiber provider for many Burlington residents.
High Point, NC (July 11, 2023) – Lumos, a leading 100% Fiber Optic Internet and Total Home Wi-Fi service provider in the Mid-Atlantic, celebrated its launch in Burlington, North Carolina, with a ribbon cutting adjacent to the Burlington Athletic Stadium. The company's network will bring reliable, high-speed internet service to the community, empowering residents and small businesses with enhanced digital experiences as the first fiber-optic internet provider for many.
With Lumos' arrival in Burlington, residents can now access lightning-fast internet speeds, providing them with the bandwidth necessary for working from home, remote learning, attending telehealth appointments, streaming, gaming, and more. This expansion is a result of significant investment by Lumos and grant funding through the N.C. GREAT Program.
"We are thrilled to launch our 100% Fiber Optic Internet service to the vibrant City of Burlington and its surrounding communities," said Brian Stading, CEO of Lumos. "Lumos is a proud leader in the fiber industry, bringing our symmetrical high-speed internet service to underserved cities and towns. Today's launch represents our ongoing commitment to bridge the digital divide and will revolutionize how the Burlington community experiences the internet. We look forward to working with our federal, state, and local partners to continue this expansion in the months and years to come."
"President Biden understands that high-speed internet is a necessity to work, learn, and play in today's digital landscape. That's why the Biden-Harris Administration is investing more than $2.8 billion to ensure communities and families in North Carolina have access to high-speed internet," said Asad Ramzanali, Chief of Staff for the White House Office of Science and Technology Policy, who attended and spoke at the event as part of the Biden Administration's "Investing in America" tour. "Today we're thrilled to see Lumos invest in expanding internet access to almost 40,000 people in Alamance County; that means 40,000 children who can more easily complete homework or 40,000 more patients who can access telehealth appointments."
The Bipartisan Infrastructure Law signed into law by President Biden includes a historic $65 billion for high-speed internet access and affordability, which includes funding for the Broadband Equity, Access, and Deployment (BEAD) program and for the Affordable Connectivity Program (ACP). In June 2023, the U.S. Department of Commerce awarded N.C. nearly $1.5 billion for high-speed internet infrastructure in BEAD funds.
That program follows other significant investments, including the American Rescue Plan Act's Capital Projects Fund and others that have been incorporated into N.C.'s GREAT Program, which funds high-speed internet service to underserved areas. These funds, in combination with the ACP, as well as private investments from companies like Lumos, will help close the digital divide in N.C. and across the country.
The ACP "helps households pay their internet bills [and] we are excited that Lumos is part of this program," said Ramzanali, praising the company's provision of a low-cost, high-speed internet service offering for elibigble households.
"Today we celebrate Lumos and the work that their team is doing to help expand high-speed internet access in Alamance County and across the state," said N.C. Governor Roy Cooper. "Together, we can ensure that every North Carolinian has the tools they need to succeed in our increasingly digital society."
Lumos is proactively working to bridge the digital divide as it announced plans to invest $750 million over the next five years to bring fiber internet to millions. In 2023 alone, the company announced multiple new market expansions, including those in Johnston, Harnett, New Hanover County, N.C., and Spartanburg and Richland County, S.C.
"EQT is proud to partner with the Lumos team to expand access to reliable, high-speed internet service to local communities," said Nirav Shah, Partner at EQT and Lumos board member. "Today's launch in Burlington is a key step in the company's continued expansion, as we work to connecting millions of homes and small businesses in the region."
To check if Lumos' 100% Fiber Optic Internet is available at your address, please visit https://www.lumosfiber.com/builtforthefuture/.
About Lumos: Lumos provides 100% Fiber Optic Internet, whole-Home Wi-Fi, voice and streaming services, to more than 225,000 homes and businesses across North Carolina and Virginia. We believe that the possibilities of tomorrow cannot be built on the infrastructure of yesterday. That's why we're building a 100% Fiber Optic network from the ground up for families, small businesses and communities, backed by local, expert customer service. An Internet built for that most hopeful of all things – the future. Because whatever the future holds, we make it faster. Learn more at www.LumosFiber.com.
LinkedIn: @LumosFiber
Twitter: @lumosfiber
Media Contact:
Emily Brice
919-610-3319
ebrice@fwv-us.com